This year marks the 50th anniversary of the Mexico City Olympic Games that ran from October 12–27, 1968. Lauded as the first games to take place in Latin America, and the first to occur in a Spanish-speaking country, they represented an important opportunity for Mexico to shine on a global scale and demonstrate that it was now a "modern" country.
The idea to officially bid for the Olympics began in 1962, and in 1963 it was decided that Mexico would host the 1968 games. When Gustavo Díaz Ordaz became the new president of Mexico in 1964, he decided to have his predecessor, Adolfo López Mateos, be the head of the Organizing Committee. However, two years later, López Mateos became too ill to continue and architect Pedro Ramírez Vázquez took over the project. Since Ramírez Vázquez was skilled at organizing large-scale projects, he quickly put together a team. He had previously been charged with designing the Museo de Arte Moderno (Modern Art Museum) and the Museo Nacional de Antropología (National Anthropology Museum), both of which were inaugurated in the 1960s.
As an architect, Ramírez Vázquez was keenly aware of the importance of aesthetics. He created a special department devoted to Image and Identity, understanding that how the games were perceived graphically, and how they appeared on television, would be of utmost importance. The artist and architect Eduardo Terrazas was in charge of this department. Among the many members of Terrazas' team (over 250 in total) were Beatrice Trueblood (British) who was the head of Publications, Lance Wyman (American) who was in charge of Graphic Design, and Peter Murdoch (Canadian) who led the design of "urban ornamentation," street signage, and street furniture*. Other well-known architects and artists, such as Mathias Goeritz, also advised the team.
Although the authorship of the Mexico 68 graphic identity has been somewhat controversial, with some attributing it to Lance Wyman and others to Eduardo Terrazas and Pedro Ramírez Vázquez, it was probably a group effort with important contributions from all of the above. The logo integrated the circles created by the number "68" with the five Olympic rings. Each character was surrounded by repetitive lines (much like the ripples in a pond) that are said to have been equally influenced by Huichol crafts, specifically Huichol yarn paintings, which depict religious and spiritual imagery by repeatedly tracing over each figure with colorful yarns, and Op Art, a movement that had recently come to the forefront of the art world.
In an interview published in the magazine Creación y Cultura in 1999, Ramírez Vázquez stated:
Chatting with Mathias Goeritz (...) I told him, 'Mathias, look, Op Art is Huichol, it's the vibration of concentric or parallel lines, plus the vibration of color.' Pedro Diego is a Huichol Indian who had worked with me in the Anthropology Museum and I called him and told him 'take the name of Mexico and do it in a Huichol board,' he did it and I still have it, that is how Mexico 68 emerged. Eduardo Terrazas saw it and he started tracing it*.
The logo was accompanied by an exhaustive system of icons that represented different sports and programs. Unlike the previous Olympiad that had used the human figure to portray each sporting event, the Mexico 68 icons used primarily objects that would easily communicate their message and reduce the possibility of having human figures compete with real humans in photographs*. Some of these icons represent the objects in a dormant state (like the swords for fencing), while in others they appear in relation to a ball, an arm or hand, to add tension and scale to the composition. Also, to make them all stand out, each icon was given a different color drawn from Mexican handicrafts.
In conjunction with the sporting events, the Organizing Committee created a Cultural Program of art-related events and installations. For this program they designed equally iconic symbols, but this time, they were black and white. Among them was a white dove on a black background that was to signify "peace" as these games were labeled the "Games of Peace." But the period preceding the Olympic games was anything but peaceful. As the planning for the games occurred, a large group of, primarily, students, but also teachers, laborers, intellectuals, and others, created the Consejo Nacional de Huelga (CNH, National Strike Council) to protest the increasingly authoritarian government and demand a democratic electoral process.
The CNH organized many protests during 1968, and in response, the Mexican government criminalized the group and claimed that they were communists, terrorists and a threat to national security. The government repressed their actions and prosecuted its members. It all culminated on October 2, when following the Mexican Army's occupation of the Universidad Nacional Autónoma de México (Mexican National Autonomous University), and ten days before the inauguration of the Olympics, the CNH organized a large protest in the Plaza de las Tres Culturas, in the Tlatelolco neighborhood in downtown Mexico City.
Thousands of students had gathered in the plaza, when, dressed as civilians, the Batallón Olimpia (Olympia Battalion), a paramilitary group created by the Mexican government to quell the student uprising, infiltrated the meeting and began shooting from within the crowd and from sniper positions. The Mexican Army that had been in charge of keeping an eye on the protest responded by opening fire. Due to the government's extremely repressive response to this event*, there is no official number of the dead and injured. But it is believed that hundreds of people died, and thousands were detained, including the leaders of the organization.
For the many marches and events that occurred in the months preceding the Olympic games, members of the CNH, and primarily students from the Escuela Nacional de Artes Plásticas (National Fine Arts School) and Escuela Nacional de Pintura y Escultura "La Esmeralda" (National School of Painting and Sculpture), created a large variety of protest posters, some of which appropriated the Olympic iconography for their own purposes. The most famous of these appropriations is the Peace dove being slashed by a knife and a second version of the dove stained with blood. Others juxtaposed the Mexico 68 logo with images of soldiers and tanks and created parodies of the sporting event logos, such as grenade throwing, sailing tanks, and soldier boot stomping. For obvious reasons, the majority of these posters were cheaply made with simple processes such as stencils, silkscreens, and linocuts.
Both events, the Olympics and the Tlatelolco Massacre, deeply marked Mexico's history and identity, and to commemorate this important anniversary, kurimanzutto New York has organized an exhibition of protest posters from 1968 created in Paris and Mexico, and fashion designer, Ricardo Seco, has created a new collection (SS2019) inspired by the emblematic concentric lines and colors that characterized Mexico 68's graphic identity. As Mexicans, we carry both sides with us. We are weary of the kind of repressive acts a government can take against its own people, and we are extremely proud of the iconic, and still vibrant, graphic identity that was created for the 1968 Olympic games. Fifty years out, we are still processing these two historic events and their corresponding designs.
_
*Among the over 250 members of this team were José Luis Ortiz, Beatrice Colle, Susan Breck Smith (from Yale University), Nancy Earle, Richard Erlangher, Ian Stornfeld and others from Pratt Institute.
*Sergio Rivera Conde, "El diseño en la XIX Olimpiada. Entrevista al arquitecto Pedro Ramírez Vázquez", Creación y Cultura, no. 1, July-August, 1999, 12-37.
*Juan García Ponce, Carta Olímpica. Mexico: Comité Organizador de la XIX Olimpiada, no. 17, 1968.
*Many journalists who were present were also shot, including Oriana Fallaci, who was shot three times and left for dead.
Mexico City Olympic Games 68 Graphic Identity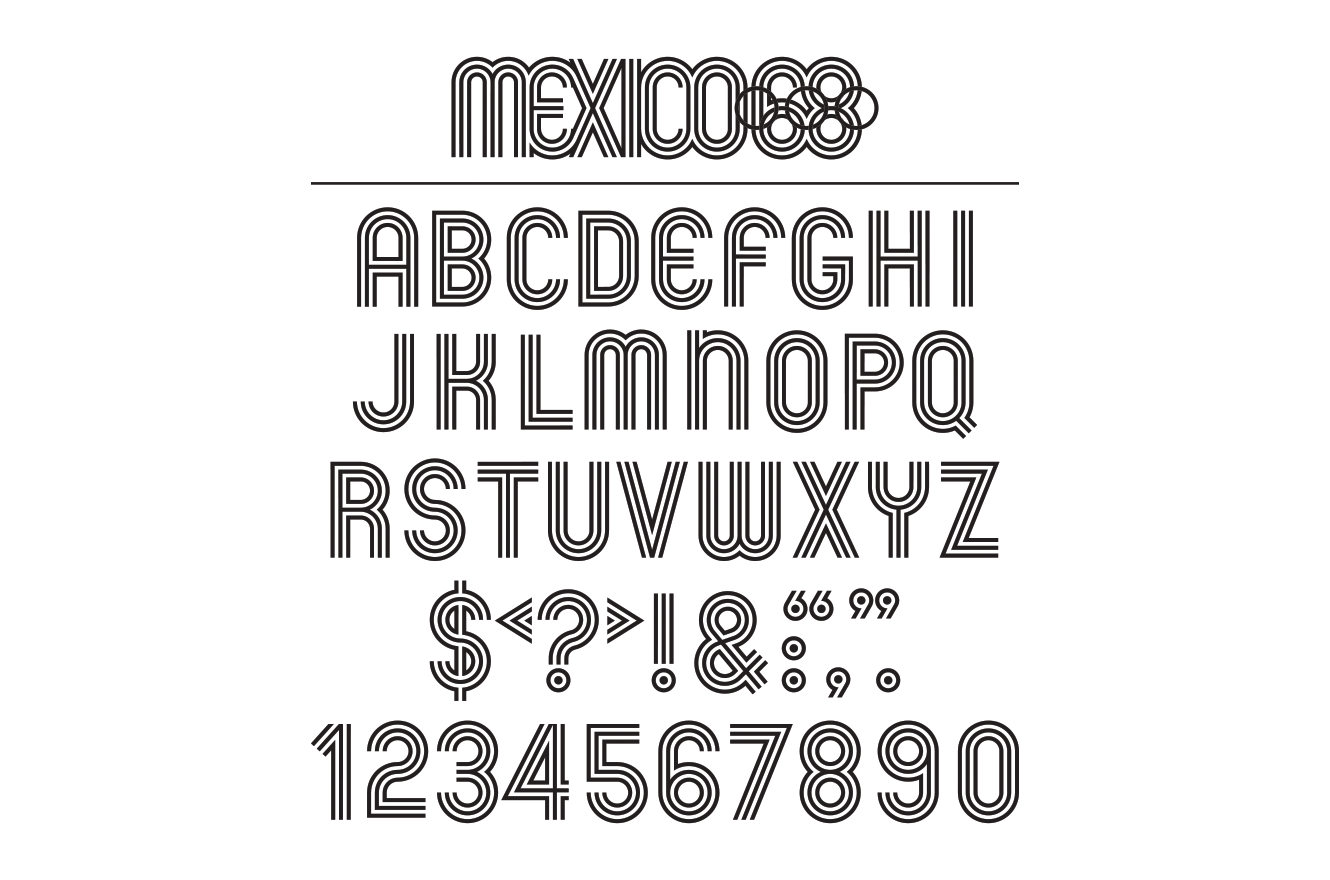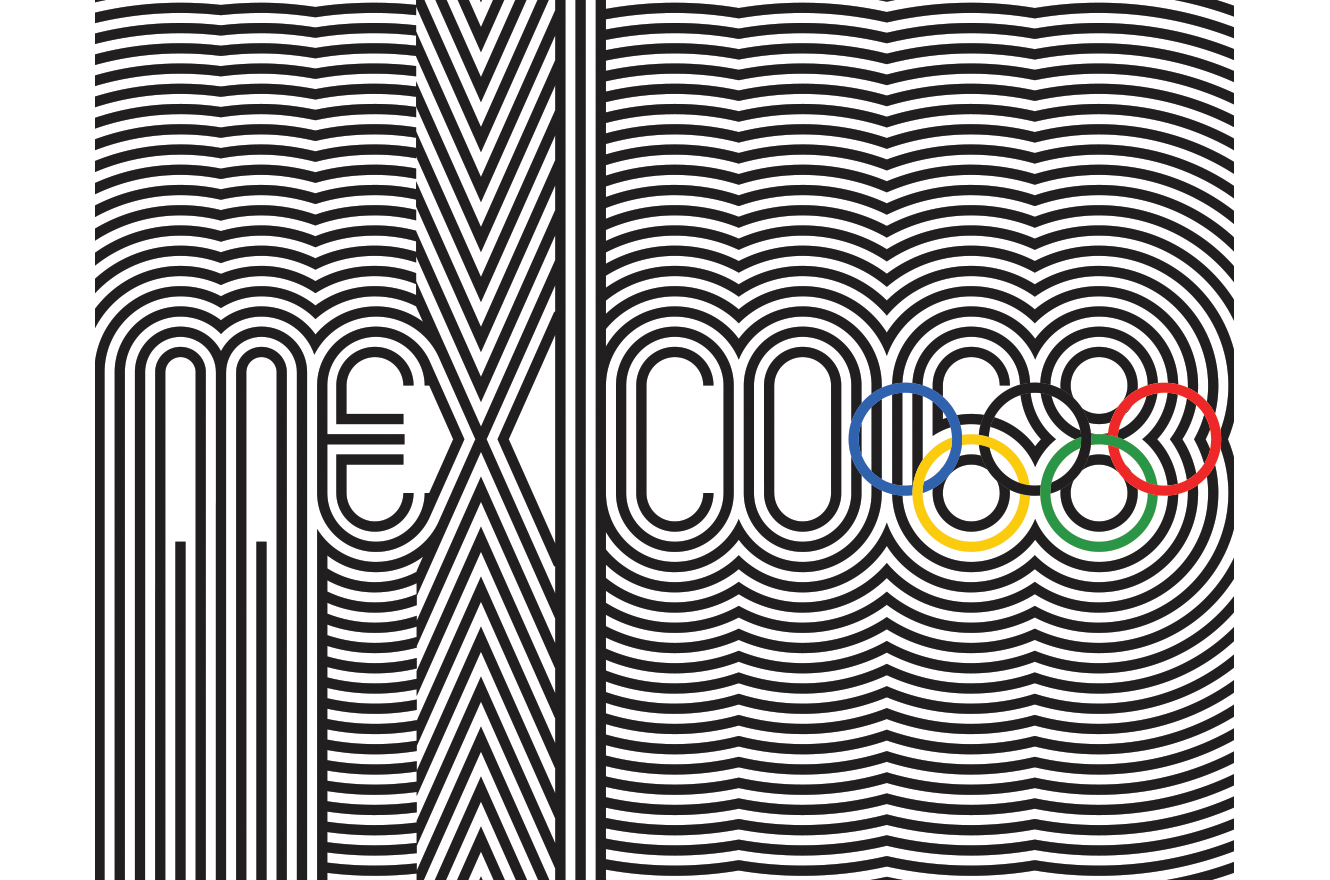 Protest posters with Olympic iconography appropriated for their purposes